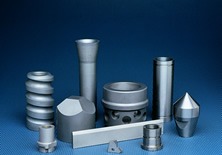 Wear Resistance Tooling
No matter which industry you name, cutting costs through extending the life of equipment is crucial to succeeding in a competitive environment. Hydro Carbide tungsten carbide bearing components can provide an ideal solution to many wear problems. We produce a wide variety of Tungsten Carbide wear resistance components and other products, including nozzles, bearing and compacts studs used for mining, well drilling, processing and transporting oil, coal and natural gas. Tungsten Carbide bearing components can be the answer wherever wear is a problem in mining, metal forming, metal producing, gas and oil recovery and transmission as well as many other industries and applications.
Hydro Carbide's engineering staff works closely with our customers to provide technical assistance on grade selection and optimum component design resulting in long and profitable part performance. Hydro Carbide's Tungsten Carbide bearing components and other wear parts components can help cut production costs by extending tool life with less machinery down time. Contact us for help, concerns and solutions for to resolve premature failure of your machine tooling and machine part wear problems.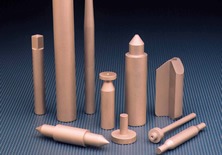 Blades and Blanks
For manufacturers of tungsten carbide tools, Hydro Carbide Tool Company offers blanks with close tolerances on flatness and roundness. Parts are inspected at each step of the manufacturing process so that the blanks exactly match customer specifications.
Regardless of your application, Hydro Carbide has a grade that will exactly meet your need. These range from Ultra-fine and Submicron grades which offer exceptional wear resistance, to medium/coarse grain grades suitable for heavy impact applications. Uniform grain size, even cobalt distribution and the absence of voids all are results of Hydro Carbide's strict quality control program.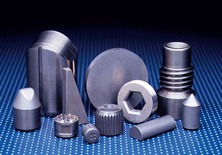 Compacts for Drilling and Mining
For manufacturers of rock drilling tools, we produce components which perform well even under the most difficult conditions. Hydro Carbide drilling compacts, studs, geophysical inserts, flat top compacts and drill stabilizer products are manufactured by direct pressing from carbide grades of medium to coarse grain structure and from 10% to 19% cobalt.
Hydro Carbide's manufacturing plant is located to easily service the needs of many OEM producers of earth drilling tools. Our location, efficiency, and years of experience in pressing tungsten carbide make Hydro Carbide, a preferred supplier of drilling components to some of the world's largest rock bit, water well bit, geophysical and drill stabilizer OEM manufacturers.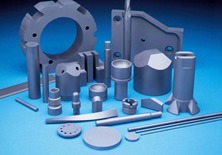 Intricate Shapes
Skilled craftsmen, strict quality control and attention to detail allow Hydro Carbide to manufacture intricate tungsten carbide shapes. Hydro Carbide has a long history of producing complicated geometries to exact tolerances.
Modern metal making processes, special machine tools, a state-of-the-art laboratory, the latest measuring devices, quality control and well trained technicians add up to superior products. Our staff is ready to assist customers in all phases of component design to take advantage of tungsten carbide's unique properties.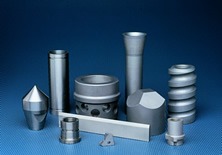 Nozzles and Valves
Hydro Carbide produces a wide variety of wear-resistant tungsten carbide valve components, nozzles, valve trim, compacts, studs and other items used for mining, well drilling, processing and transporting oil, coal and natural gas.
Our engineering staff works with customers to provide technical assistance on grade selection and optimum component design which results in long and profitable part performance.
This is just another example of how Hydro Carbide tungsten carbide wear parts can help cut your production costs. Wherever wear is a problem in any industrial application for mining, metal forming, oil and gas recovery or other area, Hydro Carbide products are providing solutions to these costly wear problems.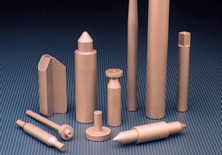 Preforms for Rotary Tools
Hydro Carbide can drastically reduce your grinding or EDM machine costs by providing preforms which require minimal stock removal. By drilling, milling, profiling, boring, turning and threading compacted tungsten carbide in a wide variety of grades, our tool and die maker manufacturing personnel staff help reduce your product production costs.
If you need tungsten carbide wear parts, Hydro Carbide can supply wear resistant components produced to the most rigid specifications.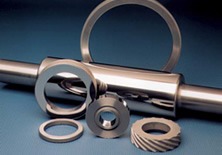 Rings and Rolls
Hydro Carbide manufactures tungsten carbide hot and cold mill rolls, flattening rolls, slitter knives, edge trimmers, scrap chopper blades, saws, guides and other parts suitable for use in tough mill environments and other metal producing industries. We make tungsten carbide grades which range in hardness from 93.0 RWA to 83.5 RWA.
Hydro Carbide rings and rolls are produced in numerous sizes as large as 12 inches in diameter and up to 20 inches long. The materials are 100% dense and components such as work rolls are often finished to 1 RMS. We also produce other mill products, including burnishing, capstan, rod mill, turks head, Koch mill, wire flattening and tube mill rolls.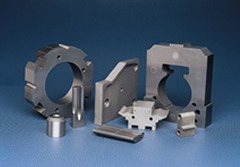 Preforms for the Die Industry
Depending on your particular application, Hydro Carbide has a tungsten carbide die grade to meet your exact needs. From submicron grades which offer exceptional wear through fine and medium grain sizes for heavy-duty applications involving impact, Hydro Carbide materials provide consistent, superior performance.
The keys to Hydro Carbide's products consistent performance are our use of uniform grain size, even cobalt distribution and absence of porosity and voids. Added to this is our production personnel's attention to manufacturing details, an exceptional quality control system and knowledgeable, experienced manufacturing employees.
Die grade materials are just one example of the tungsten carbide compositions produced by Hydro Carbide Tool Company. Whenever wear causes a costly problem in mining, metal stamping, shaping, forming and producing, gas/oil recovery and/or transmission, Hydro Carbide products are the solution.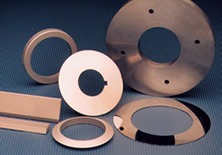 Rotary Edge Trimmers and Slitter Knives
For applications requiring slitting, cutting, trimming or chopping metals, plastics, wood or fabrics, our wear resistant tungsten carbide can help improve your productivity while lowering tooling costs.
Numerous tungsten carbide grades are available from Hydro Carbide. Our technical staff can assist you select the one grade most suitable for your application.
Whether you require an edge that is razor sharp or resistant to chipping, Hydro Carbide has a product grade that will meet your needs.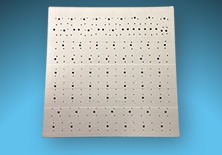 Stress Free EDM Blocks
Toolmakers worldwide rely on defect free material from Hydro Carbide for producing critical tooling components. Our unique manufacturing system creates tungsten carbide EDM blocks that are remarkably stress free.
Hydro Carbide's expertise in producing technologically superior blocks for EDM is time tested. Pure raw materials, a carefully documented quality system, modern equipment, employee training programs plus an ongoing research program involving state, federal and university resources compliment every aspect of the company's operations.
EDM blocks are available with or without start holes. Hydro Carbide also offers tungsten carbide compositions in submicron, fine, medium or mixed grains. Hydro Carbide's laboratory personnel provide technical assistance in the form of applications analysis.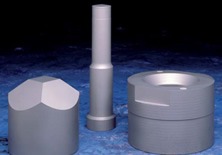 High Pressure Tool and Tip Tooling
Whenever wear is a problem, Hydro Carbide products offer a positive solution. The exceptional hardness, rigidity and dimensional stability of tungsten carbide, plus its resistance to extremes of abrasion and corrosion at high and low temperatures, make it the ideal solution to many wear problems.
Hydro Carbide has field-experienced engineers and service personnel who will work with customers to provide solutions to wear problems. Hydro Carbide can offer technical assistance on grade selection and component design; assistance that adds up to long, profitable part performance.
Hydro Carbide personnel have access to a staff of scientists and technicians. Using an impressive range of modern equipment, our technical staff conducts basic and applied metallurgical research and product development. Our technical staff is also available to Hydro Carbide customers who need problem solving or product development assistance.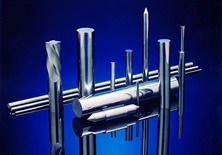 Standard Rod Products
Hydro Carbide Tool Company is one of the leading manufacturers of tungsten carbide rod products in the United States. For producers of rotary tooling, Hydro Carbide specializes in the trade marked 10% sub-micron grade Ramet1®, our fine grain carbide grade- HC-292 for diamond coating applications, C-2 and micro-grain HC-US06, HC-US10, HC-US11, Ramet 1® and HC-US16 (which replaces high speed steel in numerous applications) and our ultra-fine grain carbide grade HC-UF08, HC-UF10 and HC-UF12 for thread mill and other edge retention requirements.
Delivery of all standard pressed rods in inch and metric sizes is usually from stock. Special grades, sizes and shapes can be manufactured to customer specifications. Utility or finish ground rod is available in lengths up to 12 inches.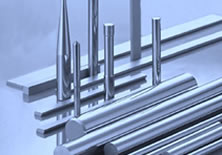 Special Preformed Blanks
Hydro Carbide has the expertise and capability to produce a wide variety of preformed blanks. We can provide you with jobber length, ball nose, rods with centers (male or female), combination drill and countersink blanks, coolant hole blanks, step blanks, special and standard burrs, special preforms, tapered end mill blanks, centerless ground standards or specials, boring bar blanks and/or custom blanks.
For producers of end mills, drills, burrs, reamers, taps and a variety of other rotating tools, Hydro Carbide produces pressed and sintered rod in many standard grades and sizes. In addition to standard rods, special non-stock parts are available in all sizes and all grades. Delivery on these specials is usually two to three weeks. Hydro Carbide offers very competitive pricing and is a very low cost producer of special preformed rod and blanks for toolmakers.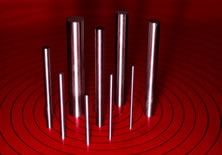 High Pressure Pump Plungers
With unmatched wear resistant and a high polished finish for extreme pressure pumping of various fluids and gasses, our high pressure plungers will increase your pump's internal life cycle.
Hydro Carbide helps the rotary tool manufacturers and die makers increase productivity and their profit margins by producing a wide variety of standard and special components like our high pressure pump plungers. We can supply component blanks in most popular grades either unground or utility ground. Hydro Carbide can also provide you with components precision ground to your exact specifications.
Hydro Carbide has the most efficient centerless grinding and measurement system available. Our equipment consistently maintains .0003 inch tolerance while sophisticated laser measurement technology guarantees parts are produced within strict control limits. SPC reporting is done automatically as parts are produced.
These are just some of the many ways Hydro Carbide assists our customers be more competitive in the market place. Wherever wear is a problem, in mining, metal forming/production, gas and oil transmission, Hydro Carbide products are providing solutions to costly wear problems.